Why Investing In Automatic Palletizer is Worthy?
A productive packaging line needs a consistent and well-organized palletizing process. Business owners can either choose a manual or automatic palletizing method. In manual palletizing, the workers built pallet loads using physical strength, which even involves powered lift tables or conveyors. In automatic palletizing, the machines deal with the entire process of building pallet loads.
Top Industries have created an inline L-shaped pallet inverter system that can be customized for tasks like removing/inserting freezer splitters, pallet stackers, labeling, etc. The system is compatible in working with every kind of pallet and product.
You can even use it to handle the fragile project by controlling the tilting feature. The system has a shock absorber to prevent fragile product damage.
Today finding qualified labor is the real issue. Staff retention is a priority. The manual palletizing process is labor-intensive and tedious, while automatic palletizers are more flexible and versatile.
Why automatic palletizing system investment is worth it?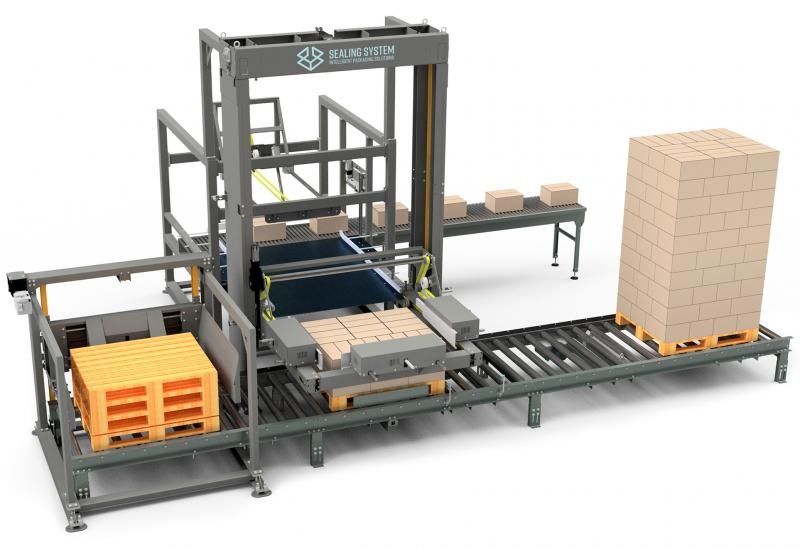 Keep workers away
In manual palletizing the employees are standing close to every safety hazard associated with moving parts. Clumsy moves lead to scrapes and bumps, while dropped boxes cause damaged toes. Sharp corners, broken corners, or mishandled tools will lead to puncture wounds, cuts, and other injuries. It means when products are closely handled there is more risk.
Automatic palletizers keep employees safe and away. The equipment includes a controlled entry system and safety enclosures. Thus voltage and gravity-related hazards are contained enabling the robots to do their task without risk to the workers.
Reduces manual labor strain
Repetitive motions and heavy lifting injure the back, shoulders, or knees. Even if healthy lifting techniques are followed, manual labor builds stress over time. Businesses have to encounter costly insurance premiums, high turnover rates, and several other issues that can hinder productivity and downtime.
The automatic palletizing system is safe because the machines are capable of handling heavy lifting without injury risk. The workforce is released to concentrate on value-added tasks, which don't cause long-term injuries or muscle strain.
No packing errors
Humans are prone to errors. While pallet loading, errors can cause the products to topple down and cause damage or injuries. A tiny error can compromise the pallet loads' structural integrity, which can damage goods in the supply chain.
Automatic palletizers assure consistent and stable pallet packing that will not fall or trip during transport across the facility or shipment. Stretch wrapping is used to stabilize unit loads to ensure safe and secure pallet delivery to end-users all the time.
Streamlined efficiency
Automatic palletizers are designed for the efficiency and speed of your workflow. Workers can be delegated with other specialized tasks rather than handling the stacking & wrapping process.
The automatic system features concurrent stretch wrapping as the machine creates each pallet layering. Thus, the stacking and wrapping process is consolidated, which makes workflow faster and streamlined.
Automatic palletizer not just enhances safety but improves the packaging line. Approach Top Industries Inc. customizes the pallet exchange system according to your application and performance needs. Here is Linkedin profile for Top Industries!